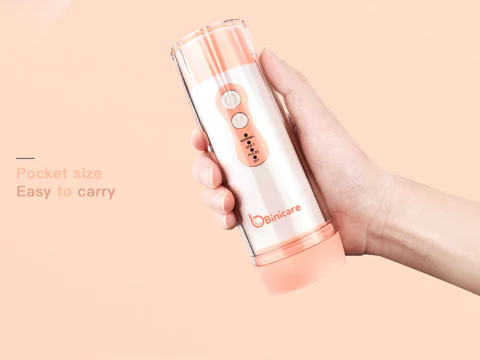 Implants Cleaning with a Water Flosser.
It is essential that you practice proper oral hygiene before, during, and after you get your dental implants, to ensure optimal healing and healthy results. Plaque can build up around dental implants, causing bleeding gums, gingivitis, and other conditions that can make the healing process take longer, affecting the results of your procedure. 
It is highly recommended for patients to use an oral care water flosser for the reduction of plaque and tartar, inflammation, and hard-to-reach areas around implants.
The water flosser, also known as the oral irrigator, this device is a stringless method of flossing between your teeth.
They are typically comprised of a few simple pieces include different modules, for example,the Binicare water flosser for teeth provides 6 replaceable nozzle tips, including 2 standard jet tips, 1 periodontal tip, 1 orthodontic tip, and 1 tongue cleaner, and 1 nasal tip. Flossing, in general, removes 40% of these unwanted particles to promote oral hygiene with multiple nozzle tips. Brushing does the rest. So, it's easy to see why flossing (even with a water flosser) is essential to your health.
When choosing a water flosser, you have a variety of options. Most devices must be plugged in to use but you can find cordless ones if that works better and convenience for you. They also come in a range of sizes and prices to suit your needs. Best flossers for braces or implants need to have adjustable settings for water pressure. It will allow you to find what works best for you to have a comfortable experience. 
After daily flossing with this teeth cleaner, you would get a healthier and cleaner mouth in the long run. People may say that it's so difficult to find a big difference after using it, however, if you find fewer dental problems, such as bad breath, bleeding gums, and periodontal diseases, the dental irrigator makes it. You could also choose a travel water flosser for your long trip to safeguard your oral hygiene.
Because there is a water tank necessary for the product to work, it's also essential that you regularly clean it to avoid any mold or contaminants from growing in the container. You don't want to put extra bacteria in your mouth when you're trying to get rid of it in the first place. It means that if you want to have the ultimate using exprience the best water flosser for implants also relates to your regular cleaning of the reservoir.
Final Thought
Above all, even water flossers aren't necessary for oral health, they are a great supplement to your oral hygiene routine if they get you to clean between your teeth more often and with more ease. Not only do people with implants or braces need to take care of their dental hygiene, but they also need to start flossing in their childhood.