4 Best Travel Water Flossers in 2022 
Brushing alone won't get rid of all food particles and bacteria lurking in and around your teeth. It is reported that only 30% of Americans use dental floss daily. If you're planning to travel and looking to improve your oral health, but find using dental floss difficult and time-consuming, consider using a water flosser instead. There are plenty of travel-friendly models on the market that you can even take with you when you go on a business trip or family vacation.
Light Weight and Compact: Look for a travel water flosser that is lightweight and compact, so you'll be able to toss it in your carry-on bag. Some models are fully collapsible. The upper portion of these flossers can slide down into or screw onto the handle when not in use.
Battery Durability: You'll need to check the capacity of the rechargeable lithium battery. Believe it or not, there are travel water flossers that reach a full charge in just a few hours. This charge will then last for up to 30 days, depending on the model you select. Some models, like the Binicare Flosstra IPX7 Cordless Travel Water Flosser, also come with a USB-C cable, which is handy if you don't want to wait for the battery to recharge.
Multi-modes or DIY Available: Review the available water pressure settings on the travel water flosser. While some models only have a choice between two pressure types, others have as many as six. There are even models in the market with a DIY mode. These allow you to adjust the water pressure until it matches your comfort level.
Below are the 4 best travel water flossers that you can easily obtain to improve your gum and teeth health during your traveling and vacation.
#1 Binicare Flosstra Water Flosser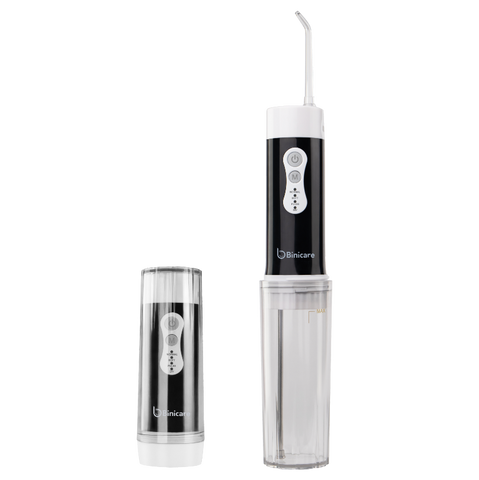 Overall Rating (4.9)
4.9/5
Travel Rating: 10/10
Expert Rating: 9.9/10
Users Rating: 9.8/10
Binicare is a trusted brand on the market when it comes to dental health products, such as water flossers, electric toothbrushes, and other oral care products. The reason that Binicare Flosstra water flosser takes the first rank in our review of the best travel water flossers
Travel-ready: All designs of Flosstra water flossers are oriented to minimize the size and weight for travel use but never sacrifice the flossing performance, the reservoir can be screwed onto the handle when it is not used, significantly reducing the size, makes use of the most recent technology, and it is highly recommended by dentists.
User-friendly: Binicare Flosstra water flosser comes with 3 modes and a DIY mode, which allows flossing pressure interchanged from 30-120psi, has the strong force to remove debris and plaque and is flexible in pressure adjustment.
Long-life Battery: Flosstra water flosser comes with a long-life 2000mAh battery that comes with fast-charging capability. A full charge can be completed within 5 hours, but it can last up to 30 days, meet the flossing request for traveling.
After extensive research, it is noticed that Binicare Flosstra water flosser could significantly reduce oral diseases and gum bleeding if used before brushing during traveling. Flossing with Binicare water flosser is quite simple, and you only need to fill the water reservoir and lean over the sink to let the water flow to the sink while flossing to remove food particles. It is a great travel companion for you.
Pros
Innovative design for travel use
Features a large 200ml water reservoir
Comes in 3 functional modes and DIY modes to adjust flossing pressure
Higher battery capacity (2000mAh) & up to 30 days of durability
IPX7 Water-proof, flossing on shower or bath
Includes 6 replacement tips + tips bag + travel case
14-day Money-Back Guarantee
Stocked in California, USA, ready to ship
Cons
Sometimes can be out of stock due to high demand
Shipping not available for the US only
#2 Panasonic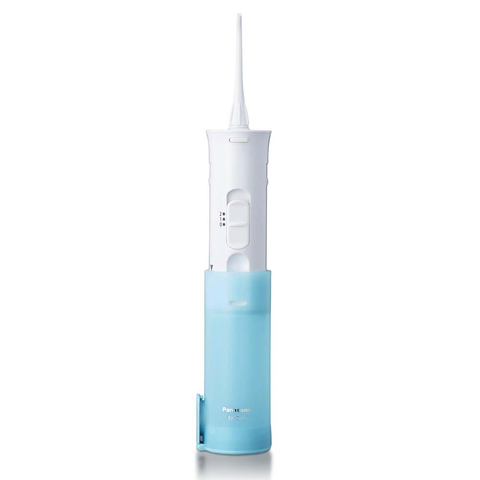 Panasonic Portable Oral Irrigator
Overall Rating (4.5)
4.5/5
Travel Rating: 9.5/10
Expert Rating: 9.0/10
Users Rating: 8.9/10
Food particles and plaques formed between teeth are easily removed with the Panasonic Water Flosser.  Panasonic ranks second in the review of our experts, and it is an exquisite device that daily uses, you may enjoy healthy teeth and gums and preserve good oral health. This small water-based flosser makes its way between teeth with 1,600 water jet pulses per minute to aid in removing difficult food debris thoroughly. It is among the best especially when it comes to cleaning spots where traditional floss and toothbrushes can't always reach. These cleaning pulses help stimulate and massage the gums, as well as gently remove microscopic food particles that can become caught in the small periodontal spaces.  A movable nozzle also makes it simple to modify the water jet orientation to penetrate deeper into the mouth.
Pros
Two nozzles
3 modes for water pressure
1500 pulses per minute
Water-resistant
Cons
Longer charging time (15 hours)
No fast-charging support
No indicator for the remaining battery charge
Small water tank (130 ml) compared to its counterparts
The reservoir is easy to leak and not easy to pull out by ladies
#3 Philips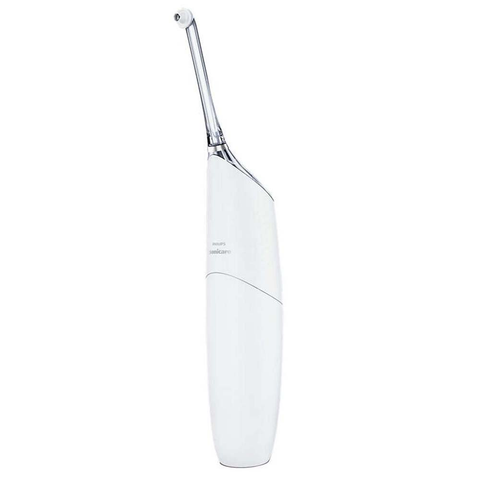 Philips Airfloss Ultra
Overall Rating (4.3)
4.3/5
Travel Rating: 9.5/10
Expert Rating: 8.6/10
Users Rating: 8.5/10
If you don't floss regularly, you're not getting to the germs that may accumulate around your teeth, creating plaque and unpleasant breath. Cleaning and flossing have been made easier by Philips Sonicare AirFloss Ultra Flosser, which provides a simple, quick routine for preventing cavities and improving long-term gum health. It is one of the highly approved cleaning devices by dentists and experts which is meant to help flossers enhance their gum health. It's compact and simple to use, and it takes less than 60 seconds each day to floss the areas that regular brushing can't reach. 
Pros
TripleBurst Technology for simultaneous water and airflow
Battery indicator light
Longer battery life (one full charge lasts for 2 weeks)
Cons
Delicate design leading to breakage
Higher price compared to similar products
Non-ergonomic design
Long charging time
#4 Oral-B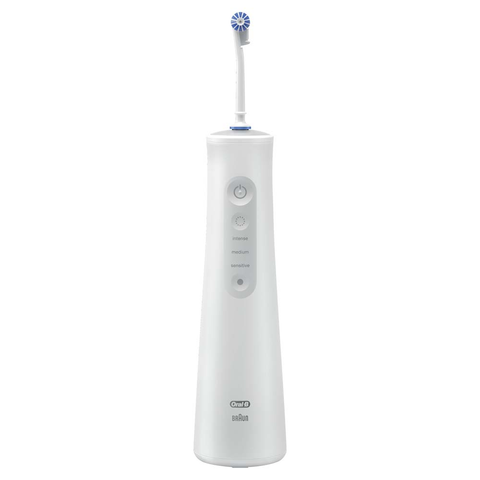 Oral-B Water Flosser
Overall Rating (4.0)
4/5
Quality Rating: 8.1/10
Expert Rating: 8.0/10
Users Rating: 7.9/10
If you are interested in dental care and hygiene, you must have heard about the Oral-B brand. It is one of the most well-known brands on the market and has recently released a new version of its water flossers. The brand-new model makes use of an oxygen system to deliver pressurized water and air to gum and teeth to remove bacteria and food particles. It circulates the water for rotational cleaning, which helps gum health by increasing blood circulation. The oxygen technology used in Oral-B Water Flosser produces microbubbles for extra penetration and cleaning.
Pros
Three flossing modes
On-demand button to reduce mess while flossing
Oxyjet technology for precise targeting
Cons
Some customers are not satisfied with the pressure
Small water tank
Not enough spout on the nozzles
Small spray heads
It's important to schedule a routine cleaning of your travel water flosser. You can do this after returning home from your trip or stick to a once per month cleaning. Start by removing the flosser's water tank and cleaning it using your dishwasher. Fill the water tank with 8 ounces of water and 1 tablespoon of white distilled vinegar and return it to the flosser. Run this mixture through the flosser to clean out the internal parts. Dump any remaining solution out of the water tank, rinse it clean, and fill it back up with water. Run the water through the flosser to remove any traces of the previous solution. Wipe down the outside of the water flosser using a soapy dishrag and soak any nozzles in either hydrogen peroxide or vinegar.